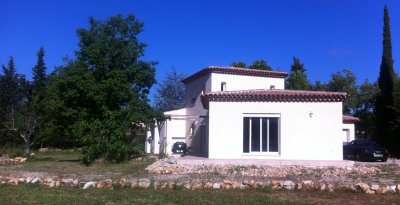 - For Sale

Brand new 4 bedroom villa for sale in St CÚzaire Grasse Provence South of France

Set in a secluded location in the south of France in sought after village with lots of attractions, good community and local horse riding and other amenities



Summary information
New villa for sale
Excellently constructed and fitted new villa of 200 m▓ on land of 2900 m▓ with all modern amenities in a most sought after village of Provence in a bucolic setting within easy distance of Grasse, Cannes, Antibes and Nice. The webmaster has visited this property, knows it and can recommend it. On frequent flights through Nice airport he has met numerous people who attest to St CÚzaire attractions as a wonderful place to live.


Price 630,000 Eu

Full details: http://www.antibes.co.uk/grasse-st.cezaire-house-for-sale-villa-a-vendre-provence-south-of-france.php/
South of France


Available on completion of sale

Tourist information photos: http://www.info-riviera.co.uk
Click here for more properties in this region
If this opportunity looks interesting PLEASE BOOKMARK this page - ADD TO FAVOURITES - or print it now . . .

Please follow the link to the full details before stating an interest.